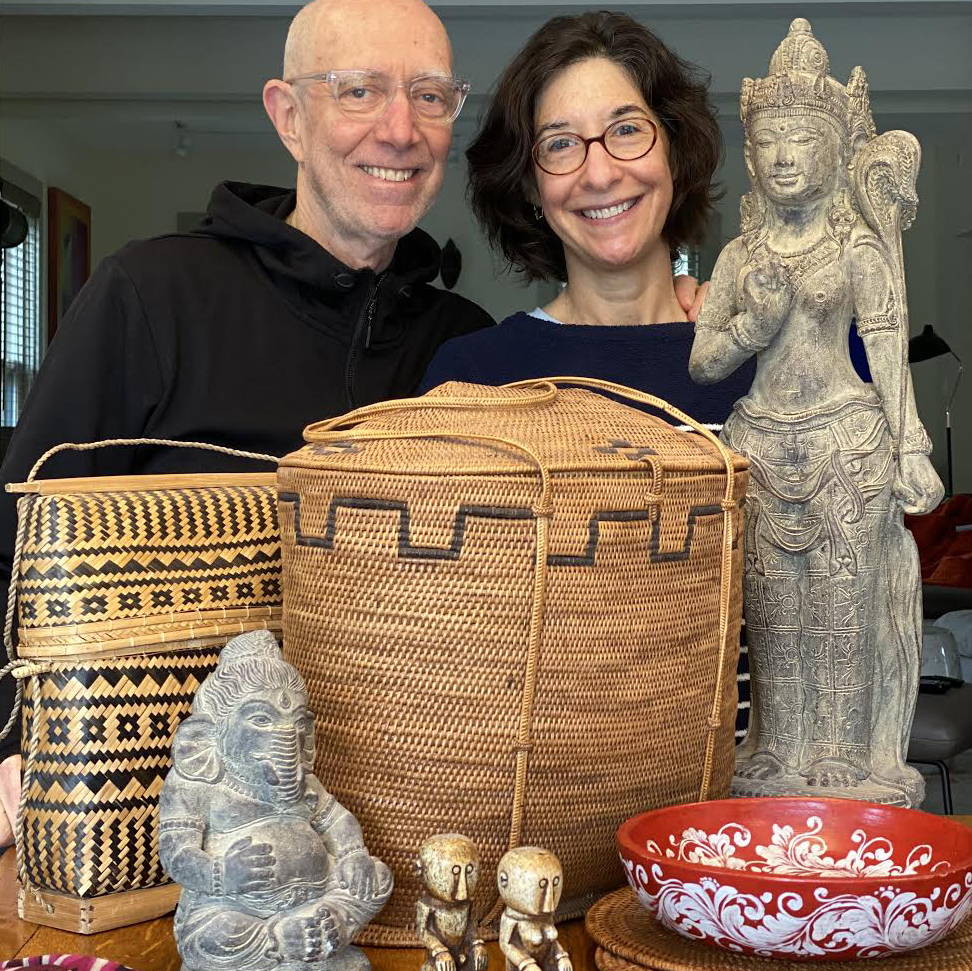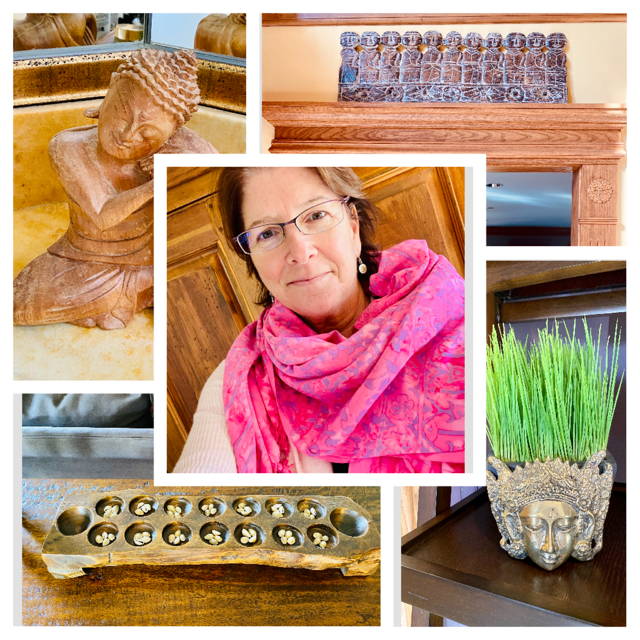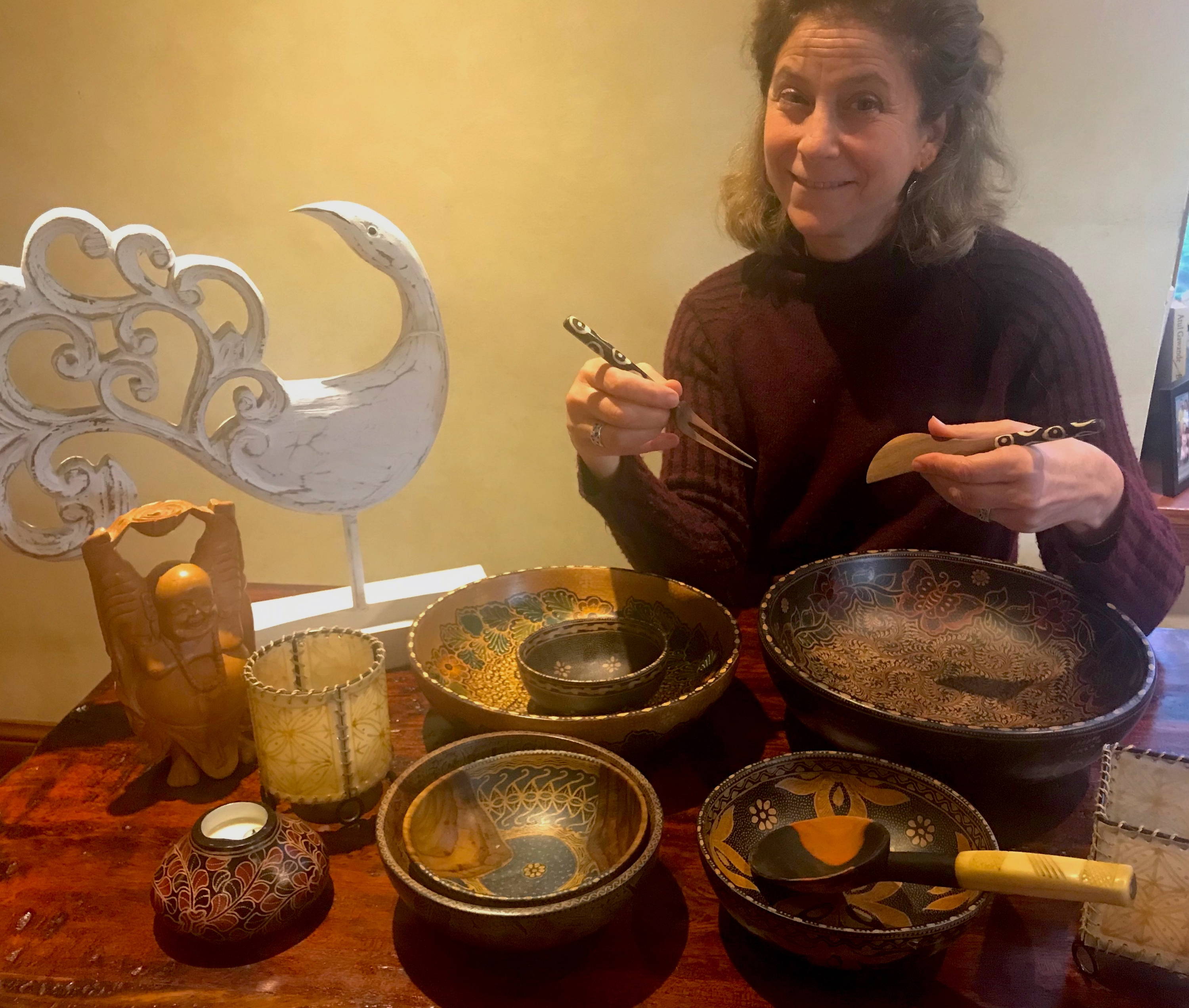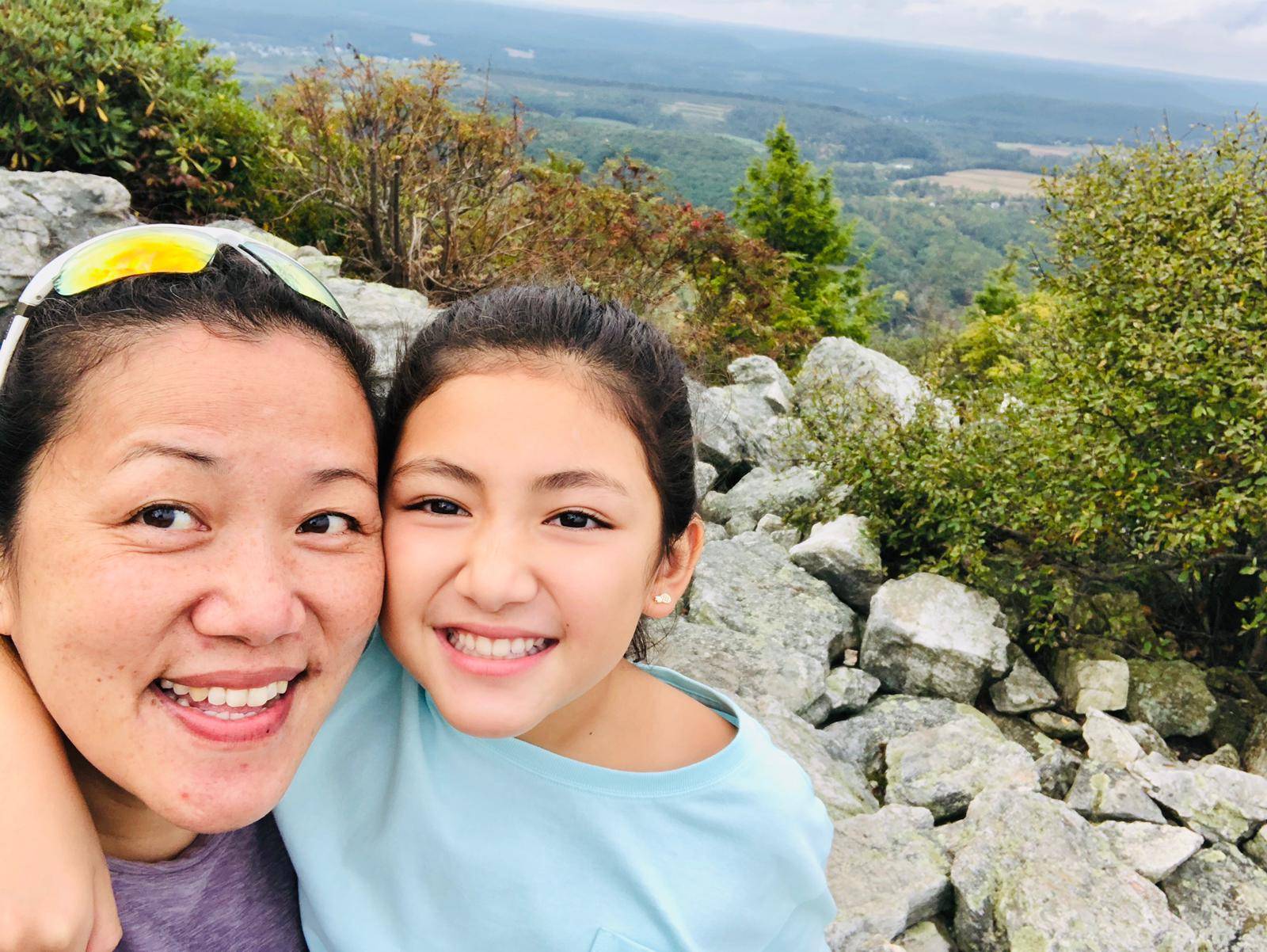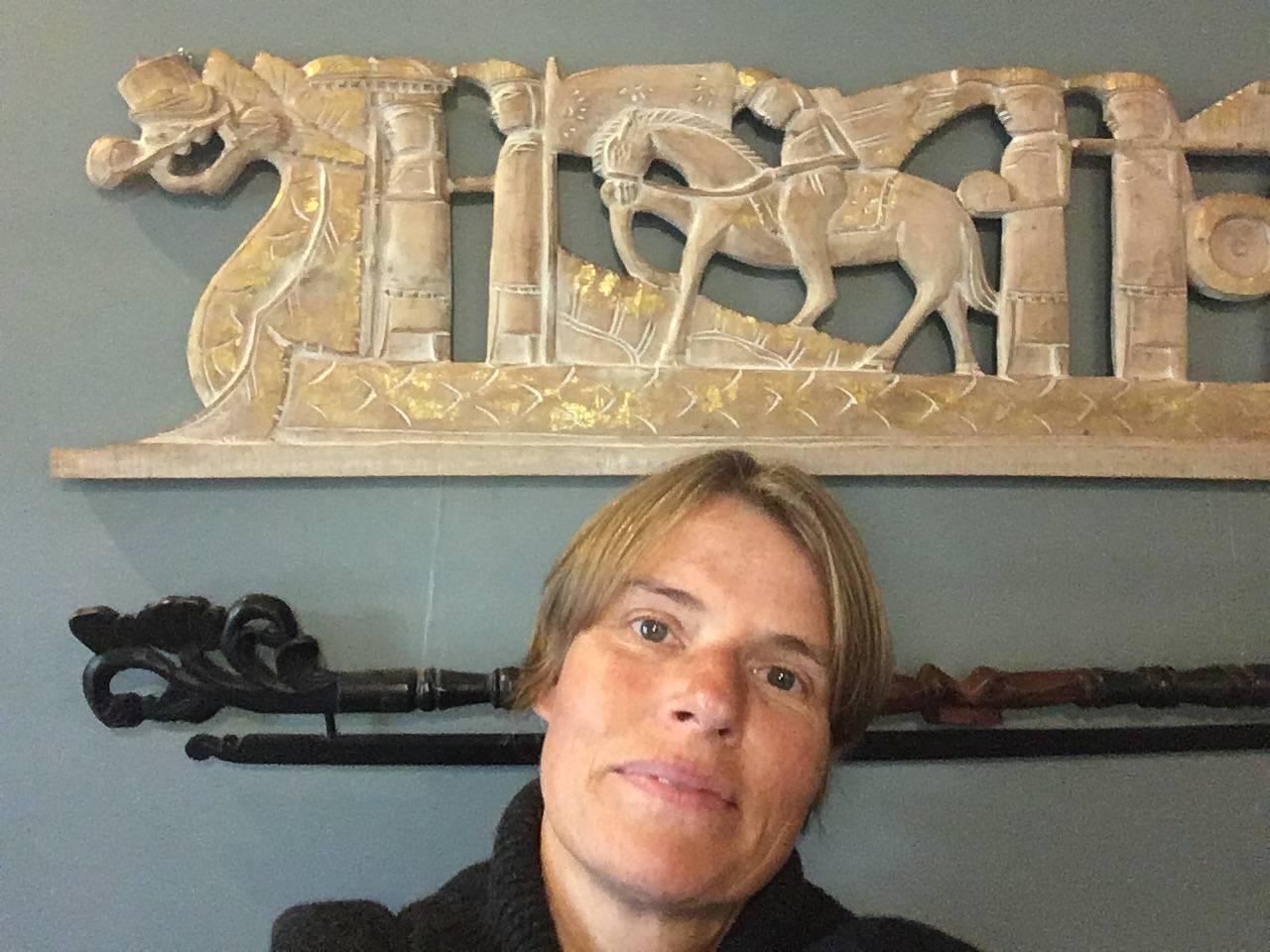 Sharon's Words:
With each new piece that I add to my collection I can feel the spirit of Bali and the love that Laura carries with her from her beloved home! I can't wait to see what treasures await this year!

Amy's Words:
Laura's vision is whimsical, creative, and inspirational. I look around my home and am inspired by all the ways she has brightened our surroundings. Her gorgeous batik paintings grace our walls, her beautiful bowls hold our delectable food, her lovely earrings make my outfits complete, and I gaze at the laughing Buddha by my bedside each night before I go to sleep. Laura is a treasure and if you go to her show you will find myriad treasures that will make you smile each and every day.

Ulrike's Words:
Laura's wares find delight for their beauty and originality, and always hit the high mark on quality, usability, and durability. I can't wait for this year's treasures!

Jade's Words:
I attended the first From Bali to Bala and had the pure pleasure of touching the batik fabrics that were shown there - in very strong, beautiful colors. I bought six of the sarongs in different colors and had dresses made out of them. Just beautiful. The batik designs complemented the colors. The store had a myriad of unusual gift items from Bali and were perfect for holiday or anytime giving - in a range of prices. There were cultural programs Laura produced that were entertaining, inspirational, and informative. Did you know Laura speaks the native language of Bali? I believe her Bali friends whom she met years ago embraced her then as they do now. As we all do. The store gives a financial boost to the people of Bali.

Ron's Words:
Discovering From Bali To Bala was a very happy accident. I was walking and witnessed the joy and excitement of a small girl as she pulled her parents into the store. I had to see what this small girl had seen! I walked in to see a display of beautiful, colorful hand-carved wooden butterflies. They were so incredible! I looked around and felt like I had been transformed into a different world. Colorful red and green dragon kites filled the sky, wind chimes, Buddha statues and colorful scarves filled my eyes. I felt like a young boy observing some beautiful, magical and mysterious secret place. The owner of the store, Laura welcomed me. She had a kind and gentle expression. I told her I was on a break from a spiritual workshop and was out walking. She asked how I was, and I said something like, "I feel beautiful." She gazed into my eyes and said, "You are beautiful." We embraced. This was Laura. We've been dear friends since that moment. Each year I look forward to gazing at new finds from faraway lands. From Bali to Bala is more than a store. It is a homecoming of the heart with puppet making, dancing, music and food! And I am the proud owner of many colorful batik shirts! Oh, and I ended up buying one of the wooden butterflies for a friend that first day. I asked the little girl picked it out for me.

Lauren's Words:
I've watched From Bali to Bala grow from Laura's small Bala Cynwyd living room boutique to the meticulously handpicked inventory of treasures she's displayed for the last few years in Chestnut Hill. Some of my favorite and most well used wooden bowls, wall hangings, jewelry, scarves, sarongs and other fun treats, have been gathered over the years at the warm and welcoming store Laura has created for more than 20 years. Now online you can browse her collection and although you will surely miss the ambiance and her enthusiastic welcome as you walk through the door, she will still work with you personally to find just the right one of a kind gift for yourself or another. I won't miss the opportunity to support Laura and her dear Balinese friends at this year's online From Bali to Bala!

Nate & Diane's Words:
Visiting Laura's From Bali to Bala show is an experience of the senses. Upon entering you are surrounded by color, sounds, and smells of a far-off world most of us will never have the opportunity to visit. Laura will welcome you with warmth, knowledge and love of a land that was once her home. She knows each artist and artisan and makes the beautiful objects, which she has personally selected, come to life. Her events are a treasure to be a part of making you feel that you have had a wonderful trip to the exotic islands of Indonesia.

Jeanny's Words:
I hit the jackpot in the year of 2008 for finding "From Bali to Bala". Every year as I stepped in the showroom and smelled the incense, I felt like I entered "Indonesia". Only by then I have realized that I have been carrying my inarticulate yearning for my homeland. Every merchandise has been collected mindfully, wholeheartedly straight from the Indonesian artist all over the archipelago. Knowing Laura's Cohn, her family and her whole world has brought me such a tremendous cultural experience by understanding American culture and preserving Indonesian simultaneously in such a kind, positive, humble state of mind. My daughter, Sakti and I have always cherished the most fun section at the showroom, the kids section. It is always heartwarming to see how a wooden, earthy and simple material could be manifested to incredible toys, music instruments, and games that makes me smile. There are lots of highlights for me whenever I step into Laura Cohn showroom, but I found myself always going straight to her literature collection about Indonesia. Somehow the Indonesian culture and other 'tranquil glory' of Indonesia has been preserved in the world of Bali to Bala. About the events, darn informative. Documentaries, slight shows, presented by various, interesting, amazing people from all walks of life who carry interesting life experiences themselves in Indonesia. They have connected me better to the heart of everything that Indonesia has, and have opened my eyes and appreciate my homeland in a much better light.

Kathy's Words:
My home décor includes lovely items from my travels all over the world, but my most beautiful and cherished possessions are the ones I have purchased over the years from Laura's Cohn's artfully curated collection of Indonesian crafts. Laura spends extended time each year in Bali, where she collects unique items from a wide network of artisans, many of whom are her personal friends, and all of whom are steeped in the complex and rich heritage of Indonesian traditional arts. From Bali to Us, is a wondrous marketplace of artisanal-created home goods, jewelry, and clothing, where even the most humble of everyday items, when created in the aesthetic of Indonesian decorate arts, become objects of exquisite beauty. A subtly patterned batik tablecloth, a glazed leaf-themed ceramic tea set, and intricately painted framed wall mirror are just a few of the treasures that add that special touch of exoticism to my contemporary American home.

Carol's Words:
Every November for the last 22 years, it's been inspiring & delightful visiting Laura Cohn's From Bali to Bala show. Laura's batik paintings are wondrous, and the themes expand into new realms each year they are the backbone of the show. She has a great eye the artwork she selects reflect the integrity & vast creativity of the artists and the wonders of Bali and Indonesia. Oh! don't forget to check out the magnificent kites, flying goddesses and textiles!